PLANET WDRT-731U 300Mbps Dual-Band 802.11n Wireless Gigabit Router
Κατασκευαστής:
PLANET
Κωδικός Προϊόντος:
WDRT-731U
Διαθεσιμότητα:
Διαθέσιμο
Τιμή: 64,98 €
Χωρίς ΦΠΑ: 52,40 €
Special Price!!!
2.4G and 5G Simultaneous Dual-Band Wireless ConnectivitySince there are more and more wireless applications and electric devices using the radio frequency of 2.4GHz, the wireless channel of 2.4GHz has been already too crowded for clients to enjoy the high-speed wireless connection. In order to avoid the wireless interference between each other, PLANET WDRT-731U provides users with the radio frequency of 5GHz for watching HD videos or playing online games. At the same time, it enables other users to surf the Internet via the original radio frequency of 2.4 GHz. The WDRT-731U is just like 2 totally independent Access Points in one device for you.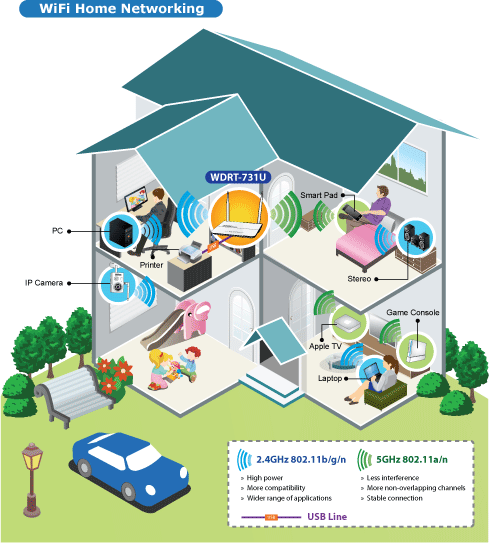 Multiple Network Technologies for Incredibly 600Mbps High-Speed Connection
The WDRT-731U supports IEEE 802.11a/b/g/n dual band standard with 2T2R antenna technology, therefore it can provide the wireless speed up to 300 + 300Mbps which is 12 times faster than that of the traditional 11g access point. Moreover, the WDRT-731U is equipped with all Gigabit Ethernet ports and built-in with 5dBi High-Gain antennas which provide strong signal and excellent performance even in the long range or bad environment. Compared with general wireless routers, the WDRT-731U offers faster transmission speed and more convenient method to enable or disable wireless signal.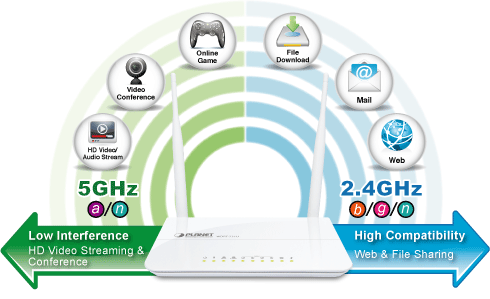 IPTV Pass-through for Video On Demand
The WDRT-731U provides an IPTV-specific port which enables the IPTV Set-Top-Box (STB) connection to directly pass-through the LAN port. The IPTV feature makes it possible for users to enjoy online videos on the TV set via Set-Top-Box (STB) through the WDRT-731U while surfing Internet. The IPTV port can also function as a LAN port if IPTV service is not enabled.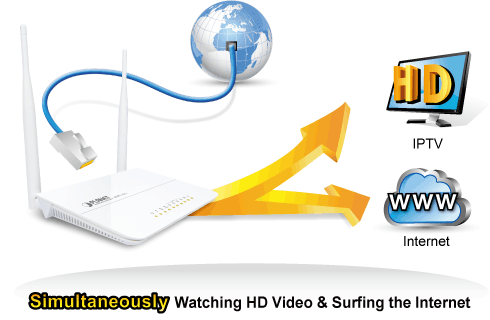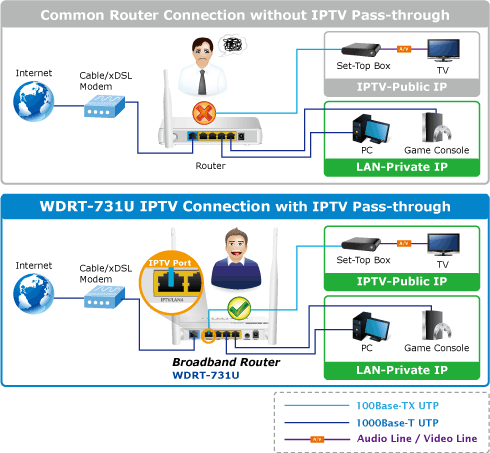 More Flexible File Sharing over USB port
The WDRT-731U is built-in with one USB 2.0 port which can be connected to a USB printer or storage device for file sharing. It can recognize the USB printer or storage automatically without user experience. Thus, all clients on the network can share printer or mass storage through the WDRT-731U without complicated network configuration. Via the USB port, it also can output 5V DC power to charge any USB compliant devices.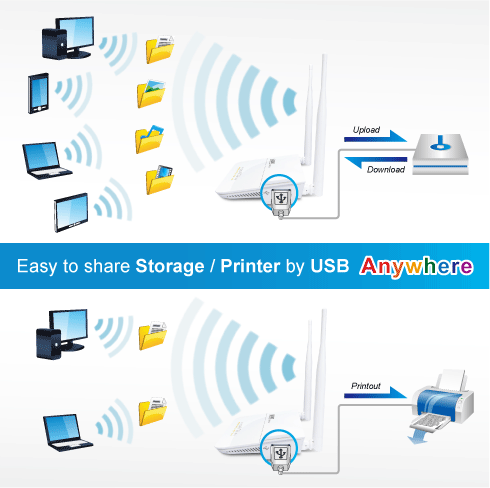 Powerful Firewall and Complete Access Control Functions
The WDRT-731U supports NAT function allowing multiple users to access Internet via a single legal IP. It also provides Virtual Server for the specific LAN PC to act as an application server and offer certain service to the clients on the Internet. In addition, the powerful firewall protects your Intranet clients from unauthorized accesses and various kinds of DoS attacks from the Internet. In aspect of firewall, the WDRT-731U supplies IP-based and MAC-based access control to prevent possible hackers attack.

Full Support of Wireless Security Encryption
To secure the wireless communication, the WDRT-731U supports up-to-date encryptions, such as WPA / WPA2 and WPA-PSK / WPA2-PSK with TKIP/AES. The WDRT-731U supports Wi-Fi Protected Setup (WPS) configuration with PBC/PIN methods to simplify the wireless security settings. By just clicking the WPS button, the secure connection between the wireless AP and wireless client will be built immediately.

Under Construction
Under Construction