PLANET VF-402-KIT 4-Channel Video over Fiber Bundle Kit
Κατασκευαστής:
PLANET
Κωδικός Προϊόντος:
VF-402-KIT
Διαθεσιμότητα:
Διαθέσιμο
Τιμή:
663,29 €
Χωρίς ΦΠΑ: 534,91 €
Reliable Long Distance Solution for Analog Surveillance System
To help current analog camera deployment in long distances efficiently and provide high video quality and reliable signal, PLANET has developed the video over fiber media converter kit, VF-402-KIT, which is ideal for extending the distance and signal conversion by transmitting the video and data over the fiber-optic cable. Applying the intelligent encoding / decoding technology and with the compact box, the VF-402-KIT CCTV over fiber media converter enables the videos to be delivered in high quality up to 20km long in distance.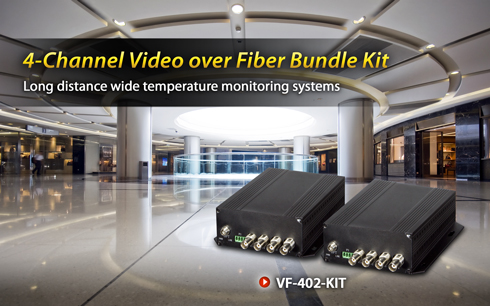 Fiber Optic Communication for Video and Serial Data
The VF-402-KIT consists of a Video Transmitter and a Video Receiver:
 
 • VF-402-T: 4-Channel Video over Fiber Transmitter
 • VF-402-R: 4-Channel Video over Fiber Receiver

It is a digital fiber-optic transmission system to bring users a cost-effective solution for transmission of 4-channel uncompressed digital video and one reverse RS-485 async-data over one single fiber cable. The VF-402-KIT is an adjustable free device, providing high quality and real-time video transmission. It can be widely used in intelligent transportation systems (ITS), traffic surveillance, security monitoring, automation control, intelligent residential districts, etc.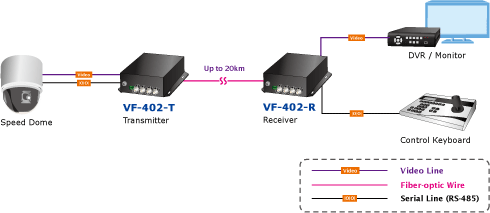 Industrial Level Monitoring Systems
The VF-402-KIT can be applied to Industrial level operation under a wide temperature range of -25 to 75 degrees C. It performs zero distortion of high quality video transmission and clear graphics in long distance by adopting advanced international uncompressed full digital error correction and gigabit fiber optical transmission technology. This series of optical transceiver supports hot plug and can be deployed independently or in rack-mounted structure. It is simple to operate without requiring field adjustment. Therefore, the VF-402-KIT is very applicable to different working environments.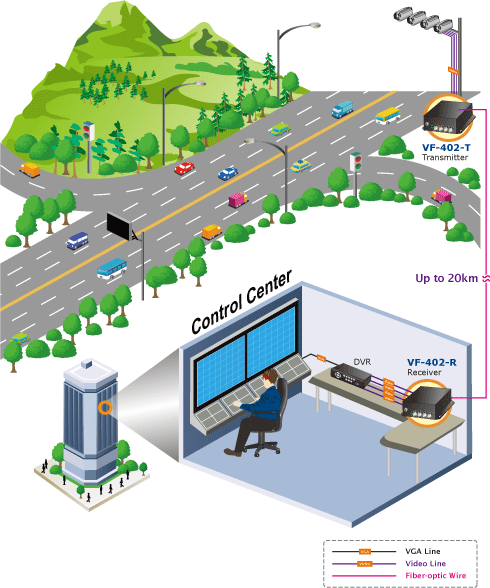 Video Optical Transmission - PLANET VF-402-KIT - 663,29 €
Video Optical Transmission - PLANET VF-402-KIT 4-Channel Video over Fiber Bundle Kit