PLANET MH-3400 Gigabit Multi-Homing VPN Security Router
Κατασκευαστής:
PLANET
Κωδικός Προϊόντος:
MH-3400
Διαθεσιμότητα:
Διαθέσιμο
Τιμή:
659,45 €
Χωρίς ΦΠΑ: 531,81 €
Special Price!!!
Appropriate Network Security Solutions
As Internet becomes essential for business, the crucial solution to preventing your Internet connection from failure is to have more than one connection. PLANET MH-3400 is a Gigabit Multi-Homing VPN Security Router ideal to help the SMBs increase the broadband network performance and reduce the risks of potential shutdown if one of the Internet connections fails. The MH-3400, supporting Multi-Subnet interface with Multi-VLAN function, allows users to easily divide network into different sections based on applications, such as VoIP, web or ftp server, or user groups.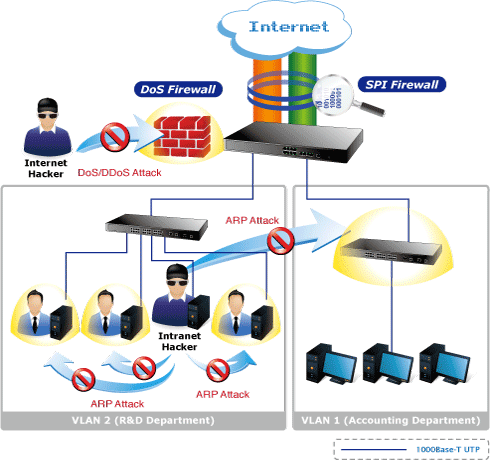 Cost-effective IPv6 Managed Router Solution for SMBs
Faced with the increasingly large number of IP cameras and Wireless APs being installed and deployed in all kinds of applications, more and more network equipment comes with IPv6 protocol for next generation networking. The MH-3400 supports both the original IPv4 network structure as well as the new IPv6 protocol with easy and friendly management interfaces and plenty of management functions included.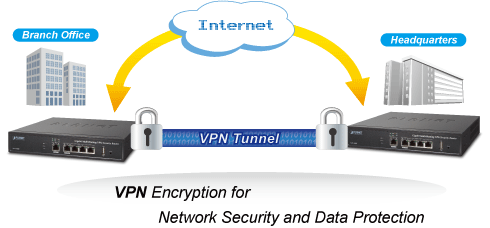 Improving Network Efficiency with Load Balancing
Moreover, the MH-3400 allows you to perform load-balancing by distributing the traffic through three or four WAN connections. In Outbound Load Balancing, the network sessions are assigned based on the user configurable load balancing mode,including Auto Load Balance,Unbinding WAN Balance and Strategy Routing. Users can also configure which IP or TCP/UDP type of traffic use for WAN port to connect. The Inbound Load Balancing is for enterprise's internal server. The Inbound Load Balancing can reduce the server loading and the risks of system crash so that the MH-3400 helps to improve the server working efficiency.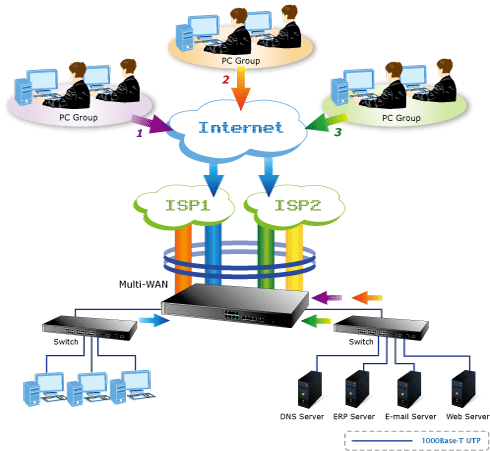 Strong Protection for Network Security
In addition to a multi-homing device, the MH-3400 provides a complete security solution in one single box. The policy-based firewall, content filtering functions and VPN connectivity with 3DES and AES encryption make it a perfect product for your network security. No more complicated connections and settings for integrating different security products on the network are required.
QoS Bandwidth Management
Besides offering easy yet powerful bandwidth management functions, the MH-3400 features Smart QoS with dynamic bandwidth management to automatically control P2P, video downloading and other bandwidth hogging in order to avoid bandwidth insufficiency. It also helps the network administrators better allocate network resources based on business priorities, as well as to shape and control bandwidth usage by prioritizing different persons/groups or applications in bandwidth use.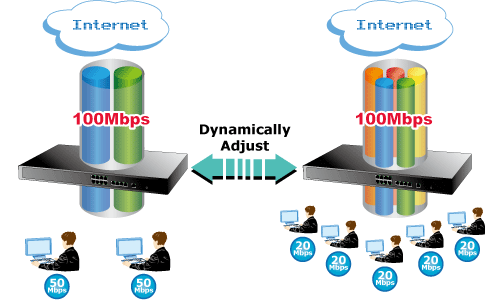 Multi-Homing Security Gateway - PLANET MH-3400 - 659,45 €
Multi-Homing Security Gateway - PLANET MH-3400 Gigabit Multi-Homing VPN Security Router