PLANET XGSW-28040 24-Port 10/100/1000Mbps with 4 Shared SFP + 4-Port 10G SFP+ Managed Switch
Κατασκευαστής:
PLANET
Κωδικός Προϊόντος:
XGSW-28040
Διαθεσιμότητα:
Διαθέσιμο
Τιμή: 794,69 €
Χωρίς ΦΠΑ: 640,88 €
Special Price!!!
Cost-effective 10Gbps Uplink Capacitated Managed Switch Solution for SMBs
The XGSW-28040 is PLANET's first Layer 2 IPv6 / IPv4 management Gigabit switch built in with four 10Gbps uplink slots to greatly support SMB network to achieve 10Gbps high performance in a cost-effective way because 10GbE interface usually could be available in Layer 3 Switch but Layer 3 Switch could be too expensive to SMBs. The four 10Gbps SFP+ interfaces in the XGSW-28040 is in the same size as the commonly seen Gigabit SFP slot and also is the main standard for 10Gbps transceiver. The XGSW-28040 can work with PLANET ENW-9800 Dual 10Gbps SFP+ PCI Express Server Adapter series or the third brand 10Gbps server adapter to help SMB build up 10Gbps Ethernet network providing 10Gbps NAS (Network Attached Storage) or heavy transmission of video streaming service at affordable price. Each of the SFP+ slots supports Dual-Speed, 10GBase-SR/LR or 1000Base-SX/LX, meaning the administrator now can flexibly choose the suitable SFP/SFP+ transceiver according to the transmission distance or the transmission speed required to extend the network efficiently.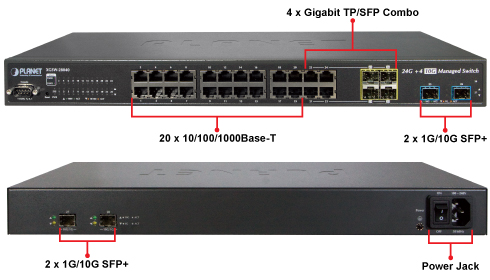 IPv6 Managed Gigabit Switch Solution for SMBs
Currently, lots of electronic products or mobile devices can browse the Internet, which means the need of IP address increases. However, the current IPv4 network infrastructure is not capable enough to provide IP address to every user/client. The situation forces ISPs to adopt the IPv6 (Internet Protocol version 6) network infrastructure.. To fulfill the demand, PLANET releases the IPv6 management Gigabit Ethernet Switch, the XGSW-28040, which supports both IPv4 and IPv6 management functions. The XGSW-28040 can work with the original network structure (IPv4) and also supports the new network structure (IPv6) in the future. With easy and friendly management interfaces and plenty of management functions included, the XGSW-28040 is the best choice for ISPs to build the IPv6 FTTx edge service and for SMBs to connect with the IPv6 network.

High Performance
The XGSW-28040 provides 24 10/100/1000Mbps Gigabit Ethernet ports with 4 shared 100/1000X SFP slots plus 4 10G/1G SFP+ slots. It boasts its high performance architecture that is capable for providing the non-blocking switch fabric and wire-speed throughput as high as 128Gbps, which greatly simplifies the tasks of upgrading the LAN for catering to increasing bandwidth demands.

Robust Layer 2 Features
The XGSW-28040 can be programmed for advanced switch management functions such as dynamic Port link aggregation, Q-in-Q VLAN, private VLAN, Rapid Spanning Tree protocol, Layer 2 to Layer 4 QoS, bandwidth control and IGMP/MLD Snooping. In addition, it provides 802.1Q Tagged VLAN, and allows maximally up to 255 VLAN groups. Via aggregation of supporting ports, the XGSW-28040 allows the operation of a high-speed trunk combining multiple ports. It enables maximum up to 14 groups of 8 ports for trunking, and supports fail-over as well.

Excellent Traffic Control
The XGSW-28040 is loaded with powerful traffic management and QoS features to enhance connection services by SMBs. The QoS features include wire-speed Layer 4 traffic classifiers and bandwidth limiting that are particular useful for multi-tenant unit, multi business unit, Telco, or Network Service Provide applications. It also empowers the enterprises to take full advantages of the limited network resources and guarantees the best performance in VoIP and Video conferencing transmission.

Efficient Management
For efficient management, the XGSW-28040 Managed Ethernet Switch is equipped with console, WEB and SNMP management interfaces. With the built-in Web-based management interface, the XGSW-28040 offers an easy-to-use, platform-independent management and configuration facility. It also supports standard Simple Network Management Protocol (SNMP) and can be managed via any standard-based management software. For text-based management, the XGSW-28040 can be accessed via Telnet and the console port. Moreover, the XGSW-28040 enables secure remote management by supporting SNMP v3 connection which encrypts the packet content at each session.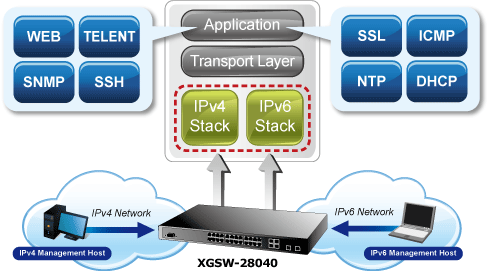 Powerful Security
The XGSW-28040 offers comprehensive Layer 2 to Layer 4 Access Control List (ACL) for enforcing security to the edge. It can be used to restrict network access by denying packets based on source and destination IP address, TCP/UDP ports or defined typical network applications. Its protection mechanism also comprises 802.1x Port-based and MAC-based user and device authentication. With the private VLAN function, communication between edge ports can be prevented to ensure user privacy. The network administrators can now construct highly secured corporate networks with considerably less time and effort than before.

Flexibility and Extension Solution
The four mini-GBIC SFP slots built in the XGSW-28040 support Dual-Speed, 100Base-FX and 1000Base-SX/LX SFP (Small Form-factor Pluggable) fiber-optic modules, meaning the administrator now can flexibly choose the suitable SFP transceiver according to the transmission distance or the transmission speed required to extend the network efficiently. The distance can be extended from 550 meters (Multi-Mode fiber) up to above 10/50/70/120 kilometers (Single-Mode fiber or WDM fiber). They are well suited for applications within the distribution SMBs.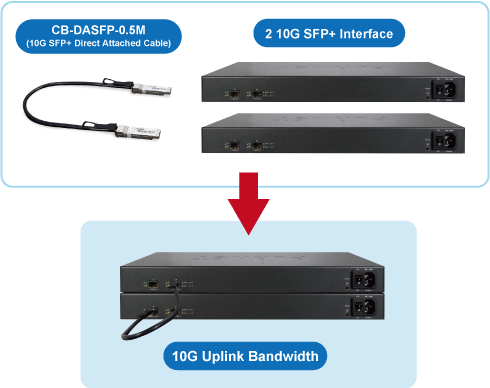 Under Construction
Under Construction